CEC General Meeting Le Méridien
CEC General Meeting meets on the 4th Saturday of each month, 9:45 am – 12:00 pm.
Hosted at the Le Méridien Chiang Mai on Chang Klan, with coffee at 9:45 am and the meeting starting at 10.30 am. Admission will be 100 baht for members, 200 baht for non-members.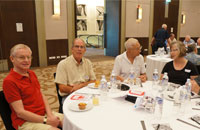 If you missed any previous meetings, you can catch up here.
Meetings on YouTube
Our monthly meetings are going on our YouTube Channel – just click here!
New Chiang Mai Expats Club Facebook group
Join here – https://www.facebook.com/groups/chiangmaiexpatsclub/